this week's post ...

All American Rejects
Real World new album February 2009
All American Rejects are one of the US's biggest bands of the past few years and they return with a new album in early 2009. 'Real World' is another superb slice of American indie/emo style rock which should whet the appetite of the converted and win over many new fans. Worth the wait
White Lies
To Lose My Life new single 5 January
An un-nerving title from London band White Lies debute album of the same name which is released after the single. White Lies have recently completed a sell out headline UK tour and are on the road throughout December with Glasvegas. Filthy Dukes have created an excellent synth-heavy, bass thumping remix, well worthy
Great Stuff...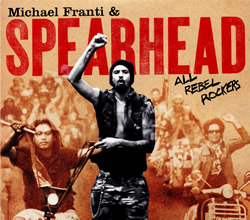 Michael Franti
Our record of the week this week is 'Hey World Don't Give Up' by Michael Franti & Spearhead, check the vid to this quite utterly brilliant peace anthem here. In Googling we also came across Franti's journey to Bhagdad to find out face to face how ordinary people there are coping with the ongoing troubles. It's a harrowing story when hospitals are unable to fend off sewerage from a bombed drainage system. See a half hour TV interview with Franti featuring excerpts from his documentary here Hear more from Michael Franti on this website alongside more unique hand picked classics In the Attic on Radio 2xs, 10.15pm til midnight on Sunday 28th December 2008
In a nutshell...
Amazing to see Home Secretary Jacqui Smith smile for the first time, more amazing that it was while she was denying any knowledge of British Anti-Terrorist Police arresting the Tory Shadow Immigration Minister
Constitutionally
In the USA:- 'We hold these truths to be self-evident, that all men are created equal, that they are endowed by their Creator with certain inalienable rights, that among these are Life, Liberty and the Pursuit of Happiness; That to secure these Rights, Governments are instituted among Men, deriving their just powers from the consent of the governed; That whenever any Form of Government becomes destructive of these ends, it is the Right of the People to alter or abolish it and to institute a new Government, laying its foundation on such principles and organizing its powers in such form as to them shall seem most likely to effect their Safety and Happiness.'
The French Declaration of the Rights of Man willed this principle to their coming generations: 'When the government violates the rights of the people, insurrection is for them the most sacred of rights and the most imperative of duties.' 'When a person seizes sovereignty, he should be condemned to death by free men.'
Next, the child police
Speed cameras have become a permanent fixture on Britain's roads, but what would you say if your neighbour had the power to catch you speeding? Under rules to be sent to the Police in the new year, volunteers could be given speed detection equipment to help identify drivers exceeding the speed limit in their area. Persistent offenders will face prosecution under a three strikes and you're out rule. Volunteers in 'speed watch' schemes will be trained to use radar guns and detectors attached to speed warning signs to identify drivers putting their foot down in areas with 30 mph or 40 mph limits. They will also be taught how to use the police computer to check vehicle details. The scheme is surrounded in controversy, following the abandonment of trials which caused neighbourly disputes. Company director Salli Roskilly decided to launch a petition against the initiative after it divided residents in her village of Fowlmere, near Royston. She said: "The final straw was when I walked by one morning and saw that they had schoolchildren on the cameras"
America's Hot 100
This Week ... Last Week ... Artist ... Title
1 1 T.I. & RIHANNA Live Your Life
2 - BEYONCE Single Ladies (Put A Ring On It)
3 3 BEYONCE If I Were A Boy
4 2 T.I. Whatever You Like
5 4 KATY PERRY Hot N Cold
6 9 KANYE WEST Love Lockdown
7 - LADY GAGA & COLBY O'DENNIS Just Dance
8 6 PINK So What
9 - NE-YO Miss Independent
10 8 AKON Right Now (Na Na Na)