Top 40 Sun 5 Oct 08
This Week ... Last Week ... Weeks In ... Artist ... Title
1 38 2 PINK So What
2 1 4 KINGS OF LEON Sex On Fire
3 new OASIS The Shock Of The Lightning
4 8 2 SUGABABES Girls
5 new BOYZONE I Love You Anyway
6 3 10 RIHANNA Disturbia
7 2 10 KATY PERRY I Kissed A Girl
8 4 5 PUSSYCAT DOLLS When I Grow Up
9 5 4 IGLU & HARTLEY In This City
10 6 5 GYM CLASS HEROES & THE DREAM Cookie Jar
11 9 6 NE-YO Miss Independent
12 7 2 JAMES MORRISON You Make It Real
13 11 3 JENNIFER HUDSON Spotlight
14 21 4 BASSHUNTER Angel In The Night
15 15 11 THE SCRIPT The Man Who Can't Be Moved
16 12 8 MADCON Beggin'
17 13 3 WILL YOUNG Changes
18 16 2 KANYE WEST Love Lockdown
19 14 5 FLOBOTS Handlebars
20 new PLATNUM Love Shy
21 19 4 MIA Paper Planes
22 10 2 FAITH HILL There You'll Be
23 18 13 KID ROCK All Summer Long
24 20 6 ERIC PRYDZ Pjanoo
25 25 17 JORDIN SPARKS & CHRIS BROWN No Air
26 26 2 ALICIA KEYS & JACK WHITE Another Way To Die
27 17 4 McFLY Lies
28 24 14 DIZZEE RASCAL & CALVIN HARRIS Dance Wiv Me
29 29 2 KINGS OF LEON Use Somebody
30 23 6 MILEY CYRUS See You Again
31 22 7 BIFFY CLYRO Mountains
32 27 16 COLDPLAY Viva La Vida
33 28 22 NE-YO Closer
34 30 2 JONAS BROTHERS Burnin' Up / When You Look Me In Your Eyes
35 32 9 THE VERVE Love Is Noise
36 re-entry 7 KEANE Spiralling
37 new N DUBZ Ouch
38 re-entry 23 GABRIELLA CILME Sweet About Me
39 new MGMT Kids
40 34 7 12 NOAH & THE WHALE Five Years On
Hey Pink is back with the biggest Top 40 climb ever from 38 to 1, Oasis beat Boyzone and there's two more re-entries - 'So What' Ha!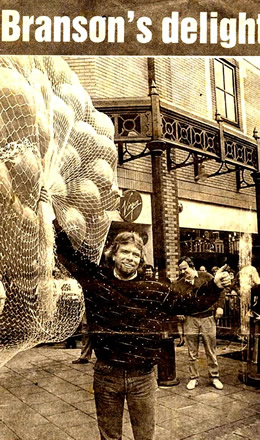 Singles Out
The demise of the single gathered pace this week with Zavvi's decision to stop selling singles instore and another album track making the top forty (King's Of Leon 'Use Somebody' at number 30) and an oldie by Faith Hill used on X-Factor. Zavvi arrived with a management buy-out from Virgin Megastores when Richard Branson decided to move on ... again
How different it was on Tuesday 5 March 1991, Richard Branson launching Cardiff's Virgin Megastore together with The Lord Mayor of Cardiff, Julian Cope and myself lurking somewhere out of view. The Clash were number one 'Should I Stay Or Should I Go' on CD, 12" and on the fast disappearing 7" rack. Hale & Pace did The Stonk for Comic Relief and the new post-Maggie Tory government suffered a crushing defeat at the Ribble Valley by-election where their 19,000 majority was swept away by the Lib Dems who won the seat by 4,000 votes
What's...
the first sign of Madness?
Suggs walking up your drive!
America's Hot 100
This Week ... Last Week ... Artist ... Title
1 1 T.I. Whatever You Like
2 2 PINK So What
3 3 KANYE WEST Love Lockdown
4 4 RHIANNA Disturbia
5 6 MIA Paper Planes
6 9 KATY PERRY Hot N Cold
7 8 T-PAIN & LIL WAYNE Can't Believe It
8 7 NE-YO Closer
9 5 TAYLOR SWIFT Love Story
10 10 ESTELLE & KANYE WEST American Boy
radio 2xs live
Xplosure now welcomes you with radio2xs, unbridled by commercial interest and packed with top notch music from fifty years of rock & roll. Radio 2xs, the creation of Jeff Cooper, takes great pride in supporting new music and artists alongside the rich heritage of quality music our mundane mainstream has abandoned. Click on the radio button above to visit radio2xs.com and learn about this unique institution. If you'd like to mute the sound at any time simply hit the pause button on the 2xs logo top left