UK Top 40Sun 12 Jun 11
At last a white male Brit is Number One in the UK... congratulations to Example who becomes the first such act to top our charts since X-Factor's Matt Cardle last Christmas...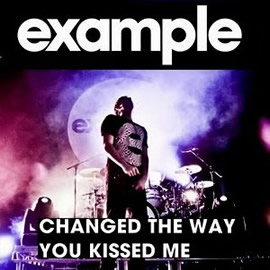 Example aka Elliot Gleave (28 years old on 20 June 2011) has tried his hand at Stand-Up Comedy for the BBC's Culture Show in February 2008 - you can see his routine with gags on 'chuggers' (charity muggers) and the turf war between Help The Aged & The Spastic Socitey (sic) by pasting youtube.com/watch?v=FRG0kpl38QA into your browser. See Example's 'Vile' parody of Lily Allen's 'Smile' by pasting youtube.com/watch?v=oY5A90dJvbI&NR=1
Congrats also to The Arctic Monkeys who's new album 'Suck It & See' has stormed to the top of the UK Albums deposing the GaGa Lady.
In America Adele stays top for a fifth week while for a second week Lady GaGa's 'Born This Way' is top of the Billboard Top 200 Albums.
Coldplay make their presence felt with their environment saving idea... 'Every Teardrop Is A Waterfall' in at 6.
Following 19 year old Michael Collings performance of 'Fast Car' on Britain's Got Talent... Tracy Chapman accelerates yet again, this week up 15 at 13... starting to get club requests for it... perhaps David Guetta can remix it!
Paramore's 'Monster' debuts at 21, with Katy B at 25 and Nicola Roberts at 28.
6 new-entries – 7 up, 27 down, 0 non-movers UK Top Ten… 7 USA … 2 UK… 1 Rumania…
This Week ... Last Wk ... Wks In ... Artist ... Title ... Origin
1 new 1 EXAMPLE Changed The Way You Kiss Me UK
2 1 8 PITBULL, NE-YO, AFROJACK & NAYER Give Me Everything USA
3 14 4 NICOLE SCHERZINGER Right There USA
4 3 6 ALEXANDRA STAN Mr Saxobeat Rumania
5 2 8 ALOE BLACC I Need A Dollar USA
6 new 1 COLDPLAY Every Teardrop Is A Waterfall UK
7 4 12 LMFAO Party Rock Anthem USA
8 5 8 BRUNO MARS The Lazy Song USA
9 10 6 JENNIFER LOPEZ & LIL WAYNE I'm Into You USA
10 12 6 DEV & THE CATARACS Bass Down Low USA
11 7 10 CHRIS BROWN BENNY BENASSI Beautiful People USA
12 11 8 JESSIE J Nobody's Perfect UK
13 28 8 TRACY CHAPMAN Fast Car USA
14 9 13 SNOOP DOGG Sweat USA
15 8 4 RIHANNA California King Bed Barbados
16 6 2 ALEX GAUDINO & KELLY ROWLAND What A Feeling Italy & USA
17 30 2 BLACK EYED PEAS Don't Stop The Party USA
18 13 11 JENNIFER LOPEZ & PITBULL On The Floor USA
19 22 3 NICKI MINAJ Superbass USA
20 18 5 INNA Sun Is Up Rumania
21 new 1 PARAMORE Monster USA
22 17 4 SWEDISH HOUSE MAFIA Save The World USA
23 15 9 LADY GAGA Judas USA
24 20 17 ADELE Someone Like You UK
25 new 1 KATY B Easy Please Me UK
26 16 6 DAVID GUETTA, FLO RIDA & NICKI MINAJ Where Them Girls At France & USA
27 new 1 NICOLA ROBERTS Beat Of My Drum UK
28 23 5 LADY GAGA The Edge Of Glory USA
29 27 7 WYNTER GORDON Dirty Talk USA
30 29 7 BEYONCE Run The World (Girls) USA
31 24 19 JESSIE J & B.o.B. Price Tag UK
32 new 1 LUDOVICO EINAUDI I Giourni Italy
33 21 3 THE SATURDAYS Notorious UK
34 26 3 TEMPLECLOUD One Big Family UK
35 33 7 NERO Guilt UK
36 39 13 NICOLE SCHERZINGER Don't Hold Your Breath USA
37 31 21 ADELE Rollin' In The Deep UK
38 25 20 CHRIS BROWN Yeah 3x USA
39 19 18 LADY GAGA Born This Way USA
40 32 12 KATIE PERRY & KANYE WEST ET USA

Leaving The Top 40
last week's position - highest position - weeks in Top 40
34 4 30 ADELE Make You Feel My Love UK
35 21 6 CHASE & STATUS with DELILAH Time UK
36 6 12 MANN & 50 CENT Buzzin' USA
37 3 18 RIHANNA S&M (Come On) Barbados
38 13 4 YASMIN Finish Line UK
40 15 3 TAKE THAT Love Love UK