Top 40 - Sun 24 Aug 08
This Week ... Last Week ... Weeks On Chart ... Artist ... Title
1 1 4 KATY PERRY I Kissed A Girl
2 3 5 THE SCRIPT The Man Who Can't Be Moved
3 2 7 KID ROCK All Summer Long
4 6 4 RHIANNA Disturbia
5 7 2 MADCON Beggin'
6 5 8 DIZZEE RASCAL & CALVIN HARRIS Dance Wiv Me
7 4 3 THE VERVE Love Is Noise
8 9 6 NOAH & THE WHALE Five Years On
9 8 11 JORDIN SPARKS & CHRIS BROWN No Air
10 new BIFFY CLYRO Mountains
11 10 10 COLDPLAY Viva La Vida
12 11 16 NE-YO Closer
13 15 9 IRONIC Stay With Me
14 12 8 BASSHUNTER All I Ever Wanted
15 18 20 GABRIELLA CILME Sweet About Me
16 new THE AUTOMATIC Steve McQueen
17 14 11 TING TINGS Shut Up & Let Me Go
18 13 5 IDA MARIA I Like You So Much Better Naked
19 17 3 NELLY with AKON & ASHANTI Body On Me
20 32 2 TAIO CRUZ She's Like A Star
21 26 2 LITTLE JACKIE World Should Revolve Around Me
22 21 13 CHRIS BROWN Forever
23 20 11 MADONNA Give It To Me
24 19 4 SATURDAYS If This Is Love
25 22 15 RIHANNA Take A Bow
26 28 2 KEANE Spiralling
27 25 17 DUFFY Warwick Avenue
28 23 23 SAM SPARRO Black & Gold
29 31 37 NICKELBACK Rock Star
30 24 15 TING TINGS That's Not My Name
31 33 6 THE SCRIPT We Cry
32 27 2 SOLANGE I Decided
33 new GABRIELLA CILME Save The Lies
34 16 2 BLOC PARTY Mercury
35 new ALPHABEAT Boyfriend
36 new METALLICA The Day That Never Comes
37 new J MAGICK & WICKAMAN Crazy World
38 29 3 SPOON, HARRIS & OBERNIK Baditude
39 36 10 BUSTA RHYMES & LINKIN PARK We Made It
40 40 28 FLO RIDA & T-PAIN Low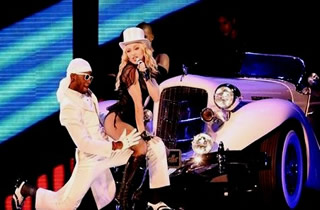 BH, it's Madonna
In a music event something akin to The Beatles at Cardiff Capital in 1964, Madonna, 50 not out, began her latest world tour in Cardiff
It is the first time the Millennium Stadium has been picked to start a world tour and stadium manager Gerry Toms said it showed the venue had the confidence of the industry.
"They could have gone anywhere in Europe but they had the confidence in Cardiff, not just the stadium, but Cardiff as a whole to deliver. We should take some strength from that."
Unveiling a stage show with 250 crew, £1m of jewellery, 16 dancers and eight costume changes. It was the first of 51 dates in a tour which takes in 16 European venues, including London's Wembley Stadium, before moving on to North and South America.
The set up includes - two stages, £lm of jewellery, 69 guitars, 3,500 individual wardrobe elements, 100 pairs of fishnet stockings with 100 pairs of kneepads. 30 wardrobe trunks with 18 clothing racks and nine wardrobe crew. 12 seamstresses in Cardiff worked to finish the costumes for opening night. 120 powder puffs, large freezers to carry ice packs for Madonna and her dancers. Also travelling on the tour are a chiropractor, a personal trainer and a masseuse, there are 10 cases of medical supplies and 12 trampolines for rehersal by Madonna and the dancers.
Madonna performed around 20 hits from her 25-year career, with the show split into four sections - Pimp, Old School, Gypsy and Rave.
The Millennium Stadium's stage was flanked by the giant letter M on both sides, with the roof shut as rain fell.
The Pimp section of the concert was described as a "mashed-up homage" to 1920s deco and modern gangsta pimp, in which Madonna made an entrance dressed by Givenchy. The Old School show section saw Madonna return to her early 1980s downtown New York City dance roots. There was a Romanian folk music and dance-influenced Gypsy section, before the Rave element, which had far eastern influences, emerging "all sparkly and sporty".

But strangely with it being the first date of Madonna's tour, £55 tickets were still available shortly before the event, leading Cardiff's Liberal / Plaid Cymru Council to claim "most of the city's hotels were full because it was a bank holiday weekend and not due to Madonna". Yeah right
America's Hot 100
This Week ... Last Week ... Artist ... Title
1 1 RHIANNA Disturbia
2 - DAVID ARCHULETTA Crush
3 2 CHRIS BROWN Forever
4 3 KATY PERRY I Kissed A Girl
5 6 COLDPLAY Viva La Vida
6 5 MIA Paper Planes
7 7 KARDINALL OFFISHALL & AKON Dangerous
8 - RIHANNA Take A Bow
9 10 NE-YO Closer
10 - TAYLOR SWIFT Change