Top 40 - Sun 10 Aug 08
This Week ... Last Week ... Weeks On Chart ... Artist ... Title
1 4 2 KATY PERRY I Kissed A Girl
2 1 5 KID ROCK All Summer Long
3 2 6 DIZZEE RASCAL & CALVIN HARRIS Dance Wiv Me
4 3 3 THE SCRIPT The Man Who Can't Be Moved
5 new THE VERVE Love Is Noise
6 5 9 JORDIN SPARKS & CHRIS BROWN No Air
7 10 4 NOAH & THE WHALE Five Years On
8 6 14 NE-YO Closer
9 34 2 RHIANNA Disturbia
10 7 6 BASSHUNTER All I Ever Wanted
11 9 9 TING TINGS Shut Up & Let Me Go
12 11 7 IRONIC Stay With Me
13 8 2 SATURDAYS If This Is Love
14 18 8 COLDPLAY Viva La Vida
15 16 3 IDA MARIA I Like You So Much Better Naked
16 12 18 GABRIELLA CILME Sweet About Me
17 13 9 MADONNA Give It To Me
18 14 13 RIHANNA Take A Bow
19 19 11 CHRIS BROWN Forever
20 17 13 TING TINGS That's Not My Name
21 15 21 SAM SPARRO Black & Gold
22 21 5 ADELE Hometown Glory
23 new NELLY, AKON & ASHANTI Body On Me
24 20 15 DUFFY Warwick Avenue
25 23 3 ULTRABEAT vs DARREN STYLES Disco Lights
26 22 8 BUSTA RHYMES & LINKIN PARK We Made It
27 re-entry 35 NICKELBACK Rock Star
28 new CASCADA Because The Night
29 26 8 NICKELBACK Photograph
30 25 4 USHER Moving Mountains
31 24 14 SARA BAREILLES Love Song
32 27 16 WILEY Wearing My Rolex
33 28 26 FLO RIDA & T-PAIN Low
34 new SPOON, HARRIS & OBERNIK Baditude
35 29 18 SEPTEMBER Cry For You
36 30 21 ESTELLE & KANYE WEST American Boy
37 new SCOUTING FOR GIRLS It's Not About You
38 33 5 SHARLEEN SPITERI All The Times I've Cried
39 35 21 MADONNA & JUSTIN TIMBERLAKE Four Minutes
40 31 18 WILL I AM & CHERYL COLE Heartbreaker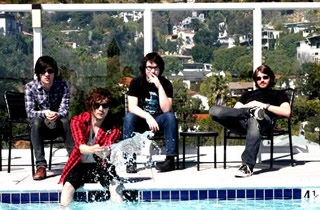 You might think The Automatic in some difficulty following-up their 'Monster' success of 2006 after losing Penney an' all. Well think again, The Automatic Automatic as they're known Stateside have returned with a classic new single. 'Steve McQueen' positively exudes energy and confidence and comes with a superb new video filmed in Los Angeles. You may catch them at the launch party for their album 'This Is A Fix' to be held @ Cardiff Barfly on Saturday 23 August.
America's Hot 100
This Week ... Last Week ... Artist ... Title
1 1 KATY PERRY I Kissed A Girl
2 3 CHRIS BROWN Forever
3 4 RHIANNA Disturbia
4 2 RIHANNA Take A Bow
5 5 COLDPLAY Viva La Vida
6 6 LIL WAYNE A Milli
7 8 KARDINALL OFFISHALL & AKON Dangerous
8 - JONAS BROTHERS Tonight
9 - PUSSYCAT DOLLS When I Grow Up
10 - NE-YO Closer
Credit Crunch Is Over
Great news from Cardiff where the credit crunch appears to be over. Here there is apparently limitless dosh for the council to continue to "encourage" Cardiffians to use public transport by funding main road narrowing schemes.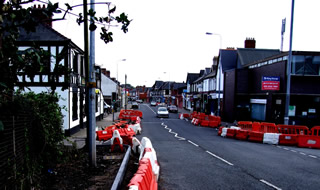 Unfortunately the funds don't extend to re-deeming some roads which have been desperately in need of repair since the 1970's.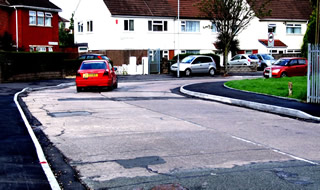 Or keeping the local Post Office open.